Scuba Program

Scuba Diving is an avocation and hobby that is very community-oriented and team-centered. It is an adventurous activity that embraces nature and fosters in its participants a sense of responsibility for our environment and one's fellow scuba divers.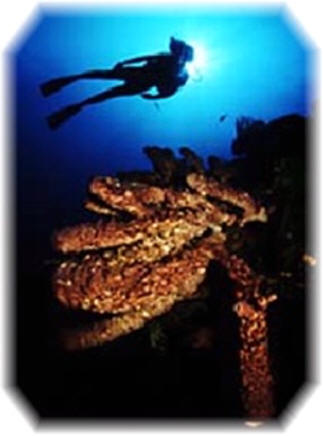 This winter & spring, Woodberry Forest and Dive Connections are offering the entry level PADI Open Water Diver as well as advanced and leadership level programs. The initial meeting will be held at 11:45am on Monday, September 17 in Edwards Lecture Hall. Training will take place in the Ruffin Memorial Natatorium on Sundays during October and early November. The exact dates are to be determined. Following the academic and pool program certification dives will be completed at Lake Rawlings Lake Rawlings located in Rawlings, Virginia.
The cost of the programs is:
PADI Open Water Diver*
PADI Advanced Open Water
PADI Specialty Diver 1 or 2
PADI Rescue Diver

* - Qualifies for the BSA SCUBA Merit Badge

$565 + $130 PADI eLearning
$525
$525
$565 + $130 PADI eLearning
These prices include all instruction and classroom materials, use of scuba equipment for pool and open water training and two days of Lake Rawlings quarry fees. Students will need to provide their own mask, snorkel, booties and fins. If they do not already own this personal gear, Dive Connections has a Personal Gear Package for $237.
To Register - Three Steps!
1 - Let Us Know - To register for the class, please download the Scuba Class Enrollment Set which contains and explanation of the program for your records, registration data, releases and a medical statement. Also please download the Lake Rawlings Release which is for the dive site operator.. Print, complete and most importantly sign all the forms. Then fax them back to Dive Connections at 434-964-9349. You can mail a check or call and we'll accept your credit card over the phone.

2 - PADI eLearning - If the you are registering for the Open Water Diver or Rescue Diver, the primary academic delivery is online to allow flexibility for the student and reduce scheduling problems. Please click on the course eLearning icons below and register for the online portion. You will be asked to make payment for that portion with the online registration. The balance of the class fee is paid to Dive Connections by check or credit card as you prefer.

3 - Personal Gear - If you are going to go diving you want your personal gear to be yours; mask, snorkel, fins and booties. Dive Connections offers a basic but high quality package for Woodberry. Upgrades are available. Please be sure that your son has appropriate scuba quality gear or call the experts at Dive Connections to give you a hand. If you want the special package just click here. You can provide sizing and they will call you for payment and thes package will be delivered to your son on the first day of class.