Bill Sawyer
Email

PADI Master Instructor #232201
Emergency First Response Instructor Trainer #232201
Divers Alert Network Instructor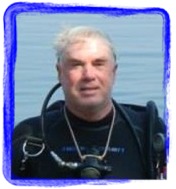 William T. (Bill) Sawyer immersed himself in the underwater world later in life than many, but did so with a passion that took him from Open Water Diver, to Technical Diver, to Scuba Instructor in an 8 year span. Beginning with an Open Water class in 2001 (that he took with his son), he completed much of his training through Down Under Surf and Scuba in Raleigh, NC, where he also began his instructional career. He joined the Dive Connections staff in early 2018, excited about the opportunities to join an active dive community and teach a variety of courses. At present, he is a PADI Master Instructor and Tec Deep Instructor. He particularly enjoys teaching Open Water and Advanced Open Water courses, which affords him the opportunity to help students - new(er) to the magnificent underwater world - to focus on developing the critical skill elements (optimal buoyancy and trim management) that allow them to become proficient DIVERS. Among his favorite specialty teaching interests are Self-Reliant Diver and Sidemount Diver, as well as TecReational Diver and courses related to equipment management and maintenance.
For Bill, diving is about experiencing life from a perspective entirely different from what those on shore might ever see. 'Diving allows you to enter another world, where as a guest you are privileged to see and interact with the truly beautiful creatures that inhabit our oceans, in a way that a picture alone can ever allow.' His favorite local dive sites often involve deep wrecks off the North Carolina coast, while his favorite dive travel destination (so far) is Bonaire. But, the list of places he plans to go is long, and continues to grow (Gallapagos Islands, Truk Lagoon, etc).
When not working or diving, or sharing his love of the marine world with others through scuba instruction, he enjoys flying and coaching high school athletics (fastpitch softball).
Specialty Instructor Designations
SCUBA for KIDS Instructor
CPR & AED Care for Children Instructor Trainer
| | | |
| --- | --- | --- |
| PADI | | |
| Boat | Equipment Specialist | Self-Reliant Diver |
| Coral Reef Conservation | Navigation | Sidemount Diver |
| Deep Diver | Night Diver | Tec Rec Deep |
| Dry Suit Diver | Peak Buoyancy | Tec Rec Trimix Blender |
| Diver Propulsion Vehicle | Project Aware | Wreck Diver |
| Enriched Air | Search & Recovery | Full Face Mask |
| TecReational Diver | | |
| DAN | | |
| Oxygen First Aid (Scuba) | Advanced O2 (Scuba) | Hazardous Marine Life |
| AED for Scuba | AED for Aquatic Injuries | On-Site Neurological Exams |



1754 Timberwood Blvd
Charlottesville, VA 22911
434-964-9200