Greg Zajac
Email

PADI Master Scuba Diver Trainer #186007
Emergency First Response Instructor Trainer #186007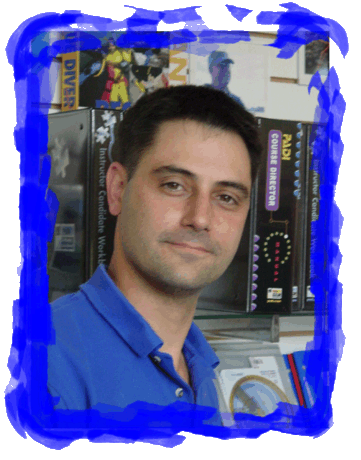 Before SCUBA absorbed Greg, he was in the marketing field as a copywriter in New York and Washington, DC. He and his wife have a son who likes blowing bubbles in the tub and letting the hose run for hours unattended in the front yard. Pure naturals in water, the Zajac men have more than once started to wash the car before they realized the windows weren't rolled up.
Their younger daughter has shown no fear of water but any talents beyond jumping off the dock and trying to land on tiny fish are yet to be determined.
An officer with the Lake Monticello Water Rescue Team, Greg has recently become one of the first PADI Public Safety Dive Instructors in the state of Virginia. He is an Emergency Response Dive International (ERDI 2) Public Safety Diver, LifeGuard Systems Ice Diver, UCI Vehicle Recovery Specialist, and a PADI Master Scuba Diver Trainer certified to teach deep, navigation, search and recovery, wreck, dry suit, enriched air, night diving, and full face mask.
A PADI Emergency First Response (EFR/CPR/AED) Instructor Trainer, Divers Alert Network (DAN) Oxygen, Advanced Oxygen, AED, and Hazardous Marine Life Instructor, he is also an NFPA recognized Swift Water Rescue Technician and Virginia medic-level Emergency Medical Technician (EMT-I).
He yearns for the day when water rescue calls occur only on warm, sunny days in clear, blue water.
Specialty Instructor Designations
CPR & AED Care for Children Instructor Trainer
| | | |
| --- | --- | --- |
| PADI | | |
| Coral Reef Conservation | Navigation | Project Aware |
| Deep Diver | Night Diver | Search & Recovery |
| Dry Suit | Peak Buoyancy | Wreck Diver |
| Enriched Air | Full Face Mask | Hazardous Marine Life |
| Public Safety Diver | PSD Surface Support | |
| | | |
| DAN | | |
| Oxygen First Aid (Scuba) | Hazardous Marine Life | |


1754 Timberwood Blvd
Charlottesville, VA 22911
434-964-9200