<open water> <master diver> <diving first aid> <dive leadership> <instructor> <technical diving>
---

Open Water Scuba Diver


Certifying more divers than all other agencies combined!
Begins the First Weekend of Every Month!



| | |
| --- | --- |
| Skill & Knowledge Development | $418 |
| PADI Materials | $217 |
| Certification Dives | $350 |
| Our Complete Cost | $985 |
| Scuba Park Entry Fees | $110 |
This is our entry level program designed to develop a competent recreational diver. The program is comprised of three parts; (1) skill development in the pool, (2) knowledge development and (3) open water dives where you put it all together. The most important thing is to get started in the water!
Skill & Knowledge Development - This program provides 3 pool sessions and 2 academic sessions wherein you will be provided approximately 14 hours with our dive staff to review and discuss any matter concerning scuba diving including equipment and travel opportunities. If you need more time, we will provide it and no additional charge so that you will be both comfortable and confident with all the skills needed to be safe in the underwater world. The cost for this program including all fess and rental gear is $418 plus materials.
The student does need to have their own personal gear for their personal fit and comfort. Personal gear includes mask, snorkel, fins and booties. All other scuba gear is provided. Package for personal gear is available at the shop at competitive pricing and a FREE mesh travel backpack.
PADI materials acquaint you with the detailed knowledge you will need to begin and continue your underwater adventure and serve as a valuable reference source for your future growth in diving. You have two choices; traditional book with video download or integrated online eLearning. Both methods re accompanied with a crew pack with dive table, log book and other valuable materials .
To get started, call us or come down to the shop, register an pick up your materials. 434-964-9200
Class Schedule - Your class begins in the water on the first Saturday of the month! We will continue your in-water training that Sunday. We then meet on the following Tuesday and Thursday evenings for academic review and complete with dives in the pool on that next Sunday when you can bring a friend to try it out for FREE!.
Pool 1
1st Saturday
11am-4pm
Lesson 1 & 2
Pool 2
1st Sunday
8am-1pm
Lesson 3 & 4 and Swim Qualifications
Academic 1
Following Tues
6:30-9:30pm
Orientation - Review Chapters 1, 2, & 3
Academic 2
Following Thurs
6:30-9:30pm
Review Chapters 4 & 5 & Final Exam
Pool 3
2nd Sunday
8am-1pm
Session 5 & Preparation for Open Water Dives
Bring a Friend for a FREE Discover Scuba!
Open Water Dives - Open water dives done locally on the third (3rd) weekend of each month and run $350 plus scuba park and air fees (usually $110). We can also complete those dives on one of our many Caribbean get-a-ways and the fee will include rental gear for the whole trip. We can alternatively provide you a referral package for $39 and even help you make diving arrangements anywhere in the world.
Recruit a buddy to take the class with you. It's always best to have a buddy
!
<open water> <master diver> <diving first aid> <dive leadership> <instructor> <technical diving>
---

Master Scuba Diver Challenge
Want to be a GREAT Diver? This is the program!
Check out area Master Divers

What is it? The program combines becoming an Advanced Open Water Diver, completing five Specialty Diver certifications and becoming a PADI Rescue Diver (see <Dive Leadership> below) assuring that you can not only take care of yourself but also assist those in need!

PADI Advanced Open Water Diver - The advanced course is 5 dives and consists of 1 dive in each of 5 different specialty courses to include navigation deep diving and three others of your choosing. You can begin now by registering with PADI online. Click on the button and begin now! Advanced students and beyond are required to provide their own scuba gear and diving costs. Come into the shop as we do have various packages that include air fills and scuba park fees. See the current Advanced Open Water Schedule.

PADI Specialty Diver

- We teach specialty courses in many specialty areas, including; altitude, computer, night, deep, search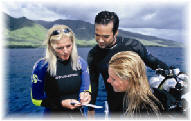 & recovery, dry suit, multilevel, drift, fish ID, naturalist, peak buoyancy, photography, videography, navigation, equipment specialist, rebreather, wreck, and boat. Note: Enriched Air or Nitrox is a fan favorite specialty and is available directly online. See below for more information.

S

pecialty courses generally run about $300 to include the materials, instruction and certification fees. Please cal or email to check schedule availability and specific pricing. 434-964-9200 scuba@connect2diving.com

Enriched Air Diver (Nitrox) - This specialty is very popular because when you increase the oxygen (enrich the air) in your breathing gas, you reduce the nitrogen and thereby reduce your body's absorption of nitrogen. That allows you to get longer dives and perhaps more dives in any given day.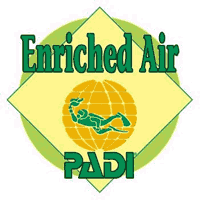 Diving Nitrox requires a dive computer. If you don't have a Nitrox dive computer, we offer special pricing for those purchasing one for use in the class.
You will learn all about diving theory and procedures involving Nitrox on the online section of the class. Then you will attend a workshop with one of our instructors either online or in person which can be schedule at you convenience anytime during normal business ours. Purchase your class and we will send you within 24 hours instructions and a code to begin your online class.
<open waterc> <master diver> <diving first aid> <dive leadership> <instructor> <technical diving>
---

Diving First Aid
Emergency First Response - A very good all around first aid course including Primary and Secondary Assessment, Adult CPR and Automated External Defibrillator (AED) training with particular emphasis on diving related injuries. The course takes one full day (6hrs) and is usually held on the weekend. The course cost is $130 including all course materials and EFR certification card. Refresher classes are $75 plus materials if you don't have them from the original course or they become outdated.


DAN O2 First Aid for Scuba Diving Injuries - As a recreational diver, you can receive training to provide vital first aid that can make a difference to a scuba diver with decompression illness. The DAN Oxygen Provider Course provides entry-level training in the recognition and management of possible diving-related injuries using emergency oxygen first aid. The course cost is $95 including all course materials and DAN certification card.

DAN First Aid for Hazardous Marine Life Injuries- Serious hazardous marine life injuries are rare, but most divers experience minor discomfort from unintentional encounters with fire coral, jellyfish and other marine creatures. This course teaches divers to minimize these injuries and reduce diver discomfort and pain. The course cost is $95 including all course materials and DAN certification card.
<open water> <master diver> <diving first aid> <dive leadership> <instructor> <technical diving>
---

Dive Leadership Training
Begin your training to become a dive leader. We train Rescue Divers and Divemasters together and encourage them to participate with each other in all aspect of the training and we can start the program for you on any Monday evening other that DEW Scuba nights, the second Monday of each month.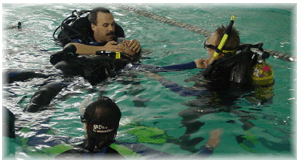 Rescue Diver - Starts the first Wednesday of every month at 6:30pm. This course introduces the student to how to handle and assist in handling dive emergency situations. It sets the stage for leadership training by incrementally encouraging the diver to take responsibility for others in the group and for the diving environment. The course includes academic modules and pool skills development followed by a day in open water where candidates participate in various real life, rescue scenarios. Candidates also need to be proficient in CPR, AED and First Aid prior to going to open water. We offer Emergency First Response to meet this requirement and will make it available during the Rescue Course. Check out the current Rescue Diver Class Schedule.

Divemaster - The first step in professional dive leadership. The course starts on the first Monday of every month at 6:30 at Dive Connections. The class focuses on teaching the candidate how to take responsibility for maintaining a safe diving environment. Academic modules are coupled with open water dive training scenarios, skills development and projects, and with both mock and actual experience with student divers.
<open water> <master diver> <diving first aid> <dive leadership> <instructor> <technical diving>
---

PADI Instructor Training
"The instructor ratings most valued by
dive centers and resorts around the world."


Assistant Instructor - The next step to preparing yourself for a part-time or full-time career in diving. The course prepares a qualified Divemaster to develop teaching skills and to be able to assist an instructor both in academic sessions and in actual open water dives. Our resident Master Instructor and principle instructor for this course is Chip Earle. <more>

Open Water Scuba Instructor - This is what you want; the culmination of your dive training with the premier dive instructor training agency in the world, PADI. We have been very successful in working with Course Director, Chris Donnelly, in developing new instructors and supporting all area instructors with recurrent and upgrade training. Nick and we can provide training for Master Scuba Diver Trainer, IDC Staff Instructor, Emergency First Response Instructor, and many of the Diver Alert Network Instructor ratings. <more>

<open water> <master diver> <diving first aid> <dive leadership> <instructor> <technical diving>
---
Technical Diving Specialties
We offer a full range of technical diving specialties including solo diving, advanced nitrox, extended range, tri-mix, gas blender, tank inspection, and both closed circuit and semi-closed circuit rebreather among many others. Check with us for times and additional course information.